Using Google to collect reviews is a great way to improve your practice's brand awareness, revenue, and online credibility, among other things.
Getting reviews doesn't have to be complex—it just takes a little time and patience. We're here to help.
Setting Up Your Google Business Profile
The first and most important step to earning reviews is to set up your Google Business Profile (GBP).
Your GBP is the "face" of your practice on Google. When users search for your practice, your GBP should populate to give users the information they need about your practice. This includes your practice name, hours of operation, contact information, and website link.
It's helpful for your potential and existing patients to include photos on your GBP, as well. This helps all users visualize your practice and boosts your credibility online. Giving users as much information as you can about your practice makes you seem trustworthy.
To set up your GBP, follow these steps:
Sign into your Google Accounts
Go to "Create A Profile"
Enter the name of your practice
Select the appropriate business category (i.e. Dentist)
Enter your practice address & hours
Select 1 – 20 service areas (cities, postal codes, etc.)
Enter your practice phone number & website URL
Click "Finish" & proceed with the verification
Tips on Getting Reviews
Once your GBP is fully set up, you can start collecting reviews!
Taking a proactive approach to getting reviews can help your practice stand out against competitors, boost your credibility with users, and help manage undesirable reviews. 81% of consumers use Google to evaluate a business, so your reviews are key to increasing business.
Remember: consumers are more likely to write a review after a really good experience or a really bad experience. By managing their experience and encouraging your patients to write reviews, you can have a bit more control over the rating of your practice online.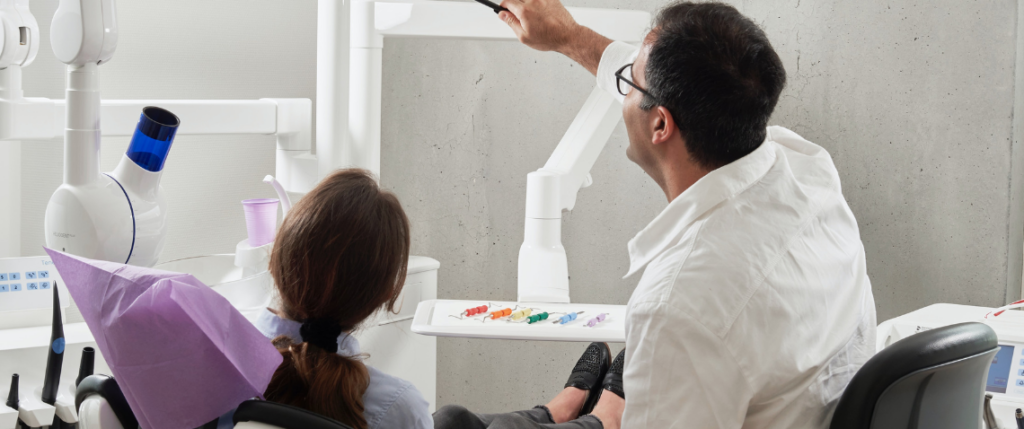 Text Patients a Review Link
Your patients are probably busy. If you can make leaving a review for your practice easy, you're more likely to collect more positive reviews.
A great way to generate more reviews is by reaching out to patients via text*. After a patient completes their appointment, you can automate a text follow-up within 24 hours to ask for a review. In this text, you can include a link to your Google Business Profile to encourage patients to jump over and leave a quick, 5-star review of their latest experience with you.
By automating this process, you save a lot of time and practice resources in reaching your patients. And by using text, you can reach your patients easily. Someone is more likely to leave a review at a time that is convenient for them if you put it at the front of their mind.
* Always ensure communication with your patients is aligned with your local regulations.
Monitor Your Reviews Regularly
Collecting reviews online has its advantages and disadvantages. This is why it's important to monitor your reviews regularly. As a general rule of thumb, checking your GBP reviews on a weekly basis helps you stay ahead of any negative reviews.
Monitoring your reviews is not only beneficial for your practice, but it gives you the opportunity to reach out to patients that were incredibly happy or unhappy.
Engage Your Reviewers
When you see a particularly positive or negative review on your Google profile, it's best practice to reply.
Acknowledging a positive note from a reviewer shows them, and all of your patients, that you do care about your reviews and the experience of your patients. You can automate this function, as well, to save yourself time. For example, you could reply to a positive review with:
"Thank you [NAME] for this wonderful feedback! We're happy to hear your experience was a great one and look forward to serving you in the future."
It doesn't have to be complex, just enough to let your audience know that you're listening and you appreciate their time in reviewing your practice.
When it comes to negative reviews, it's best to reply personally. Getting a negative review is never fun, but it is part of collecting online reviews. If you do receive negative feedback, you should absolutely reply.
Read their review carefully to find the main source of their complaint. Was it a long wait time? An unknown expense? A difficult appointment?
Whatever the reason, let the reviewer know you hear them and you're truly sorry that their experience wasn't a positive one. Give them the option to reach out to you privately to resolve their issue and hopefully improve their experience. It's best to avoid long threads and messages on negative reviews because your message could be misconstrued or lead to more discussion. You don't need to do this on your GBP. Try replying to a negative review with something like this:
"Hello [NAME], I'm sorry to hear that your latest experience at our practice was not a positive one. I would love to get in touch with you to see what we can do to rectify the situation. Please send us a note at info@randomdentist.com so we can work with you to find a solution. Thank you for your feedback."
This shows your audience that you care and you want to do right by your patients.
What if a Review is Completely Inaccurate?
If you have a review that you determine to be fake, slanderous, or from a person that is not a patient of yours, you can contact Google's administration to see if the review can be removed.
This can take time for Google to investigate, but removing these types of reviews (if they do occur) is important for providing your actual audience with the correct information and review of your practice.
Use Your Email List
Email is an incredibly powerful tool and can incorporate much more information than a text message.
Automating a review request email can be very beneficial to encourage patients to leave reviews. This also gives you room to include more information, such as a summary of their appointment, a follow-up request, or anything else you want them to know.
You can also include visual elements to engage your patients and include clear Call-To-Action buttons (i.e. "Leave a Review!") to make the process easy.
Similarly with text, always follow your local regulations when using email to communicate with your patients.
Provide the Best Possible Patient Journey
The most effective way to get more Google reviews is by providing an unmatched patient experience from the moment your patient enters your practice until the moment they leave.
This includes a friendly face to greet them and check them in. Being timely with your appointments, and communicating with your patients clearly when there are delays or changes to the schedule. Offering patients in your waiting room a beverage, having reading materials, and games or a TV to keep them entertained while they wait.
Sending an appointment reminder a day before their appointment is another great way to improve their experience. Reviewing their file before they come in and taking a proactive approach to their dental care is also important.
You already know all of this, but paying attention to your patient experience is the best way to get positive reviews! When people leave you feeling happy, fulfilled, and like their expectations were exceeded, they will want to share it with others.
Where Do I Start?
The experts at SmileShop are here to help you own your digital presence. Contact us today to learn more about how we can help you.