Having positive online reviews is extremely important in the dental industry. Patients want to verify your quality of care before they are willing to trust you with their teeth!
When searching for a local business, 82 % of people read online reviews. Plus, if you've been dawned with a negative review, it can deter up to 94% of people from booking an appointment.

Everyone wants glowing 5-star reviews. But it's not always easy to get people to write reviews even when they've had a great experience.

Read on to make sure your reviews reflect the fantastic dentist that you are!

Be in the Right Place
To get reviews, you've got to make your business easy to find. Getting set up on the right platforms is step one.
Google Reviews
Google is the most popular search engine globally, so it's no surprise that it should be your top priority when it comes to getting reviews. About two-thirds of potential patients will read Google reviews before visiting your website.
With just a glance, someone can get an impression of your clinic based on Google Reviews. This is thanks to the Google Three-Pack, which appears at the top of a local search page. Google-Three-Pack will display your clinic right next to your star rating for a relevant local search. Seeing your rating straight away can influence users to learn more about your practice or skip past you if your rating is too low.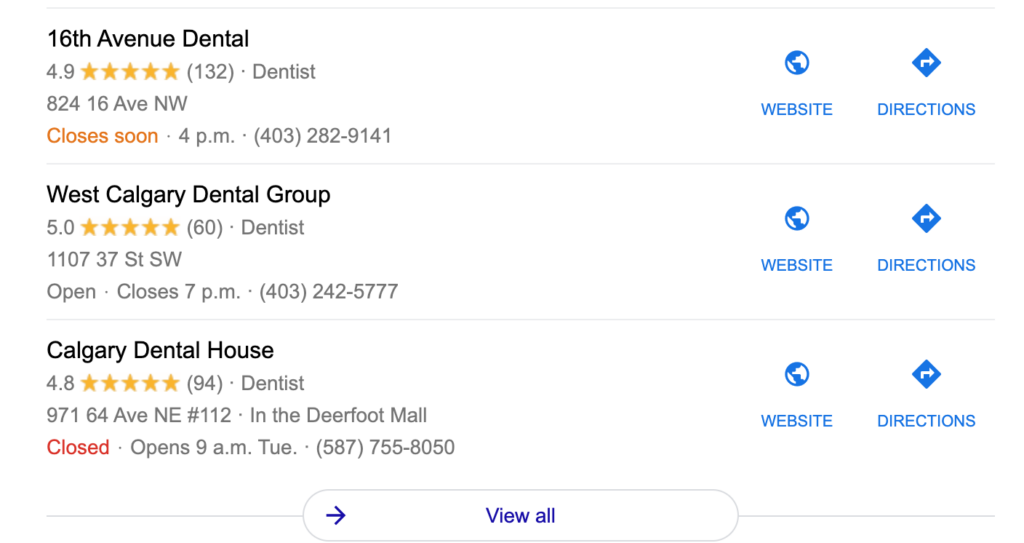 Google Reviews also gives your local SEO a boost. Reviews that contain keywords will help your practice rank higher on Google. Take a look at the reviews that appeared when we searched "Calgary root canal."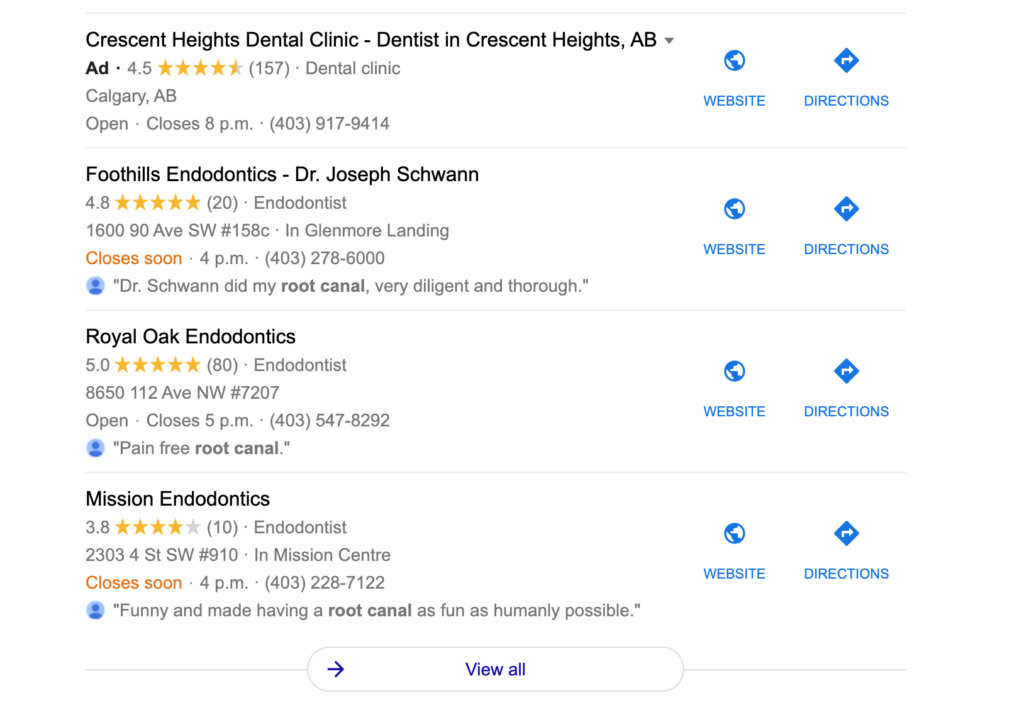 Setting Up Google Reviews
Since Google Reviews can help you gain new patients we recommend taking the time to get set up as a business with Google. The process is super simple! Learn how here.
Facebook Reviews & Recommendations
The next place you want reviews is Facebook. If someone is checking out your dental office there's a good chance they will find your social media accounts. In order to receive reviews on your Facebook page, you will need to "enable" them.
Bonus Tip: If you get a glowing review don't be afraid to post it everywhere! You can put reviews on your website, Instagram account, or anywhere else potential patients might find you.

Keep It Easy
Try not to over-complicate the process! You want your patients to do the least amount of work possible; At the end of the day, they are doing you a favour by leaving you a review.
If you are going to ask for a review, make sure to do so promptly!
You can even ask for a review before your patients leave the dental office. Right when a patient finishes their appointment is a prime time to get their feedback. Their experience is fresh in their mind, and your front desk staff can ask them in person.
Alternatively, ask for a review in a follow-up email. But make sure to send these out as soon as possible! Any later than a few days, and you will be much less likely to get a response.
Bonus Tip: Make sure that you include a direct link in your email to where they can leave their review instead of lengthy instructions.
Make Your Incentives Effective
incentivizing people to give you reviews can get you into a bit of hot water and result in some negative PR.

As a dental practice, your priority is to get authentic feedback from your patients. If it starts to seem like you are paying for reviews (giving extensive discounts or free stuff), you should reevaluate your incentives program.

These tactics can result in fake reviews-which can hurt your business reputation or get you flagged online. To stay on the safe side, try creating quarterly draws in which proof of a review enters patients into a chance to win.

Respond To Your Reviews- Especially The Bad Ones
As hard as you try to offer excellent service, negative reviews will still happen. Sigh….And as much as you want to ignore them or create an angry response WRITTEN IN ALL CAPS, responding with tact will go a long way for your business.

45% of consumers say that they're more likely to choose a company that responds to negative reviews. People expect businesses to respond to their reviews; they want a quick turnaround on replies, and they want to see clinics handling the negative reviews appropriately.
To effectively handle a negative review, do your best to deescalate the situation by showing genuine concern. Then bring the conversation to a private message to directly discuss how you can make it right with the unsatisfied patient. Responding in this way will make the unsatisfied patient feel acknowledged and showcase your ability to handle negative feedback appropriately.

Now, let's talk about positive reviews! Much easier. Show your appreciation for glowing reviews by simply acknowledging the patient and saying thank you.

Responding to your reviews increases the likelihood of customers choosing to book their eye exam with you. Patients feel heard and cared about when management responds to their review. It also helps web visitors reading your reviews get a feel for the type of customer service you offer.
To Summarize
Reviews have a significant impact on how potential patients view your dental practice. So managing reviews effectively is key. By consistently using tactics to encourage happy patients to leave reviews and responding appropriately to negative reviews, you'll have a glowing set of reviews in time.