Businesses around the globe are finally opening their doors after months of isolation and uncertainty. COVID-19 has put quite a strain on business owners, but as we emerge from our homes and get back to work, we have to understand that this is a new world.
So, as we gradually return to normal life, what are the things you need to do to promote your business while understanding the impacts the pandemic has had on the world?
At SmileShop Marketing, we don't just react to the world around us; we search high and low for new opportunities so our clients are always coming out ahead, no matter the circumstance. Today, we want to take a look at some strategies you can use so you can start putting patients back in your chairs in a post-COVID world.
Use Google Ads & Optimize Your Website
Online marketing means marketing on Google. Nearly 90% of all internet searches happen on Google, with over 3.5 billion searches from 246 million unique users being made each day. However, how do you make sure your patients see your practice over your competitors down the street?
One way is by using Google Ads. Google Ads is easy for anybody to use, but there's a lot of behind-the-scenes action that could be difficult to understand. And for Google Ads to work effectively, you need to invest in the quality of your website and online presence.
Google Ads operates as a keyword auction. By choosing a set of keywords with a budget to market, Google creates an auction in every search made to determine if the user will see your ad.
However, you don't become the top hit on Google by throwing money on your ad. Google also takes into account the quality of your landing page and how relevant you are to the user to determine your ad rank. For example, if you place an $8 max bid on your ad, but Google doesn't determine your website to be very relevant for the user, you can still lose the bid to a competitor with a $2 max bid and a highly relevant website.
In essence, for your Google Ad campaign to work effectively and reach patients, you need to make sure your user experience is top-notch.
Showcase Your Excellent Patient Experience on Social Media
Nearly half of the world uses social media for almost 2 and a half hours a day. Now that's a lot of scrolling!
But how do you stand out to your patient if you plan on using social media as a marketing platform? One great way is to show how much effort you put into providing a quality patient experience.
This doesn't simply mean sharing some pictures on Facebook or Instagram of your office interior; it means crafting an identity that resonates with the type of patients you'd like to attract! Do you value comfort and service? Share how you go above and beyond for each patient before, during, and after each appointment. Do you value providing expert medical care for each patient? Share the unique technology and techniques your practice uses to help provide the highest quality care you can achieve!
Social media is an opportunity to expand your unique personality and to connect with patients on a more personal level.
Craft a "Safe" Brand Message
As a medical professional in a post-COVID world, one thing you want to make sure you're communicating is how it is still safe to visit your practice.
However, this stretches beyond making posts on your social media and website that claim your practice is safe; you need to be crafting a message that illustrates how serious you and your practice are taking your patient's safety.
In a way, you have to communicate your "cleanliness credentials." This can include showing the ways you ensure your entire facility is sanitized or how your patients are never too close to each other. You can do this by creating a blog post, social media post, or a video that showcases the extra measures your business is taking to make sure all patients are safe and receiving the best possible care.
Utilize Your Patient Reminder System
When COVID landed internationally in March, many patients were forced to cancel or reschedule their appointments to a later (and at the time, unspecified) date. However, as we're opening our doors again for business, it's time to start using your patient reminder system to its fullest potential.
According to studies, 44.8% of missed appointments happen because the patient forgets about the appointment! That is by no means a small number, and it's a statistic you can directly impact by making sure your patients are reminded of their appointments.
Invest in Local SEO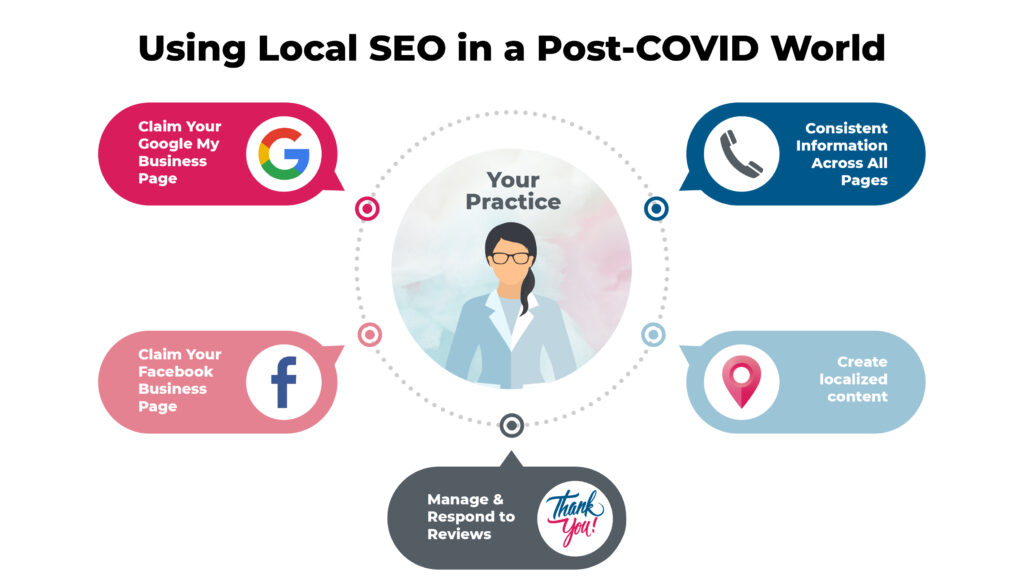 It's one thing to market to people looking for a dentist; it's another to market to people in your area. One of the best ways of ensuring you're reaching an audience that can convert to potential clients is by making sure you're making an impact on your local SEO.
46% of searches are made with local intent, meaning that the user is looking for something in their area. And, in a lot of cases, patients are often engaging with the practices that show up in the "Google Pack" (the three top businesses showed just below the fold of a search page).
Some of the basic ways you can help improve your local SEO include:
Claiming your Google My Business page
Claiming a spot on popular online directories including Apple Maps, Yellowpages, and more
Manage and respond to reviews (Google awards engagement with good and bad reviews)
Create a Facebook Business page
Make sure your name, address, and phone number are consistent across all sites and pages
Create localized content
Have high-quality metas and descriptions for each of your pages
Step Back into Work on the Right Foot
This is just the tip of the iceberg of what you can do to get patients back in your chair after COVID-19. Marketing is a daunting job that takes time and effort to do effectively. If you're looking to expand your business but don't have the time to do it yourself, give us a call today! We can help you achieve the goals you have to make your business succeed.